Need to reset Google password? Because someone might have known your password? Or, you just want to keep changing your Gmail password time to time for safety. Or you've forgotten your password? Whatever the reason, here in this article you'll learn to reset Google password whether you remember it or not.
Reset Google password for security reasons:
First of all, follow the link: 'www.gmail.com' or mail.google.com
Fill in your Gmail login credentials and sign in to your account.

Click on the profile image button located near the top-right corner of your screen, which looks like a small cog.
On the fourth category from the top of the drop-down menu, you'll see My Account option.
Click the Sign In & Security. That is the fourth item from the left of the top of the Settings tool bar.
Click on the, 'Password and Sign in method' link. Sign is again required for security propose with current password.
Enter new password and re enter again below.
Enter a new password that you'd want to set for your Google account. You will see the strength of the password to the left of the new password. Type new password with high strength for better security.
Lastly, click the blue Change password button.
Reset Google password if you've forgotten your Gmail password:
First of all, go to www.gmail.com in your web browser.
Click on the Need help? Link below the sign-in button.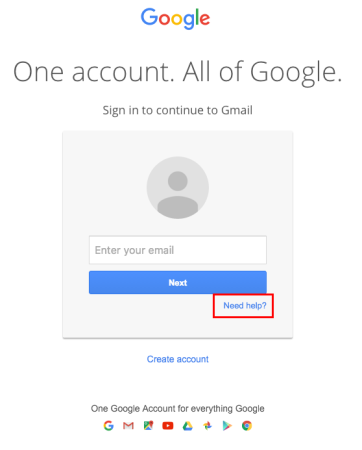 Click I don't know my password.
Type in your Gmail address in the provided field and click Continue.
Google will provide you some characters on-screen. Type them and click Continue.
Type in the "last password you recall" for your Gmail account. This will ease your password recovery process. Else, click I don't know and follow the rest of the procedure.
Choose 'Send notification' to Android phone if the device is linked to Google account. This option will send a "password reset information" to Android phone. Use the notification to reset Google password.
No Android device linked to your Google account. Click 'I can't access my device' button, and follow the rest of the procedure.
For the second option in step 7. First priority for your password recovery will be your phone. Only if a phone number is linked. For this, select a method (via text or automated call) to receive a verification code. Else, click I can't access my phone.
Your alternate email address or your recovery email linked to your Google account is your next alternative to recover Google password. Click on 'Continue' and instructions to recover Google password will be sent to email.
The, for mobile phone option, enter the verification code you have received.
For recovery email option, click the password reset link in the email.
Now, create a new password for your Google account.
Finally, click 'Reset Password' button to save the changes.